Our Processed Rice Foods Division is developing new ways of eating rice and new uses for rice, based on the guiding principles of "safety, health and good taste."

The reduced-protein "Echigo" series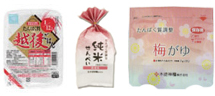 Our reduced-protein "Echigo" series and other low-protein products have been developed using vegetable lactic acid bacteria fermentation technology. People suffering from renal failure and other kidney disorders need to limit their daily protein intake, and the protein content of staple foods such as rice and bread can be a major concern for those with a protein-restricted diet. Through lactic acid fermentation, the protein content of Echigo rice has been lowered to 8%, so this reduced-protein rice can replace ordinary rice in a low-protein diet. In addition to health benefits, the rice has superior taste, with a natural flavor and firm texture.

To provide tastier and more reliable food choices to those on a restricted-protein diet, the series includes super-convenient heat-and-eat "pre-cooked" rice as well as "rice flour type," for those who prefer just-cooked rice. There's also okayu (soft rice), which comes in easy-to-carry packs, and the popular junmai sembei (rice crackers), which can be enjoyed with green tea as an easy rice-flavored snack.
Rice flour series
We produce high-quality rice flours using various types of milling machines, such as air pulverizers and roller mills, in a scrupulously clean, sanitation-controlled environment. The different types of flour (top-grade flour from non-glutinous rice, mochi [rice cake] flour) are suitable for different purposes. Each day our R & D team research the versatility of these special rice flours. They develop ways to use the flours in different products and make samples and recipes in order to create new textures that would not have been possible with existing methods--not only for Japanese confectionery and rice crackers, but also for breads, western-style pastries, Chinese-style doughs and more.
Top-of-the-line rice
Premium Kome Roman

Drawing on over 120 years of experience in the rice industry, Kitoku Shinryo has selected rice of the very finest quality and flavor from the year's harvests throughout Japan to produce Kome Roman. This top-quality rice is not available at volume sales stores.
Protein-reduced-rice "Matsubu-Mai"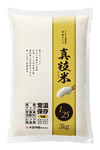 Kitoku Shinryo Co., Ltd. has produced new protein-reduced-rice which helps CKD (Chronic kidney disease) and PKU (Phenylketonuria) patients in their daily diet. The product is called "Matsubu-Mai" and has been on sale through our agents since July 2013.

Protein content of the product is reduced by 95% with our special technique. Therefore, the patients can save their protein intake from rice, and instead of the rice, they can take in more protein from meat and fish.

Normal protein-reduced-rice tends to become too soggy after cooked, but Matsubu-Mai is not like this. It keeps its good firmness like normal rice after boiled, so it is suitable for cooking. In addition, we can freeze the cooked Matsubu-Mai for storage and it does not change its texture after reheated by a microwave.

Best before date of the product is within six months under factory-sealed condition. Even after unsealed, it can be stored at room temperature; its usability has been improved.

Matsubu-Mai has received favorable reputations from a large number of its customers because of its great quality. In using the product, please follow instructions given by a doctor or a nutritionist.